Ross Macdonald vs John D. MacDonald
(Two giants of the mystery genre in the twentieth century who were at loggerheads with one another.)
Leader: Michael A, Black (Author, Educator & Retired Police Detective)*
Date: April 27, 2019
Day: Saturday
Time: 2:00 PM
*There will be two $5/ticket Raffles for two very collectible books from Michael Black's peronal collection: The Illustrated Ross Macdonald Archives (Interviews and Pictures) The Life of the Man Who Created Lew Archer by Paul Nelson & Kevin Avery with Jeff Wong and Introduction by Jerome Charyn. And Barrier Island the last novel of John D. McDonald.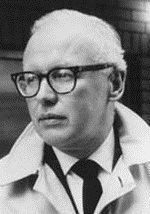 Ross Macdonald
John D. MacDonald
Ross Macdonald, whose real name was Kenneth Millar, was born Dec. 13, 1915, Los Gatos, California, and died on July 11, 1983, Santa Barbara, California. He is generally credited with elevating the mystery and detective novel to the level of literature with his compactly written tales of murder and despair. Though born in California, Millar spent and served in the Navy in World War II. After the war he received a Ph.D. from the University of Michigan while trying to build a career a writer. He was married to Margaret Millar, an established mystery writer in her own right, and so as not to create confusion, Kenneth Millar began using the pseudonym John Ross MacDonald, which he later shortened to Ross MacDonald. He is best known for his series of detective novels featuring private investigator, Lew Archer.
John D. MacDonald was born on July 24, 1916, Sharon, Pennsylvania and died December 28, 1986, in Milwaukee, Wisconsin. He was an extremely prolific and talented writer whose published works spanned numerous genres ranging from mystery, suspense, science fiction, and nonfiction. In all, he wrote over 70 books in his lifetime. After obtaining his MBA from Harvard, MacDonald served in the Army in the OSS (precursor to the CIA) in World War II. He is best remembered for his series of 21 crime novels featuring private investigator Travis McGee.
In what started as a misunderstanding, grew to a lifelong feud between the two men, both of whom made enormous contributions to the mystery/suspense field. Learn what caused the riff and how it eventually played out in the discussion of these two men and their works.
Michael A. Black is the award winning author of 30 books, the majority of which are in the mystery and thriller genres, although he has written in sci-fi, western, horror, and sports genres as well. A retired police officer, he has done everything from patrol to investigating homicides to conducting numerous SWAT operations. Black was awarded the Cook County Medal of Merit in 2010. He is also the author of over 100 short stories and articles, and has written two novels with television star, Richard Belzer (Law & Order SVU). Black is currently writing the Executioner series under the name Don Pendleton. His Executioner novel, Fatal Prescription, won the Best Original Novel Scribe Award given by the International Association of Media Tie-In Writers in 2018. His latest novels under his own name are Blood Trails and Legends of the West.
Books That Will Be Raffled Off..
Event date:
Saturday, April 27, 2019 -

2:00pm

to

4:00pm