Authors Discussion and Signing
Michael A. Black for A.W. Hart Gunslinger: Killer's Gamble and Killer's Requiem
George Tackes for Short Stories In Sherlock Holmes Consulting Detective Volume 7: The Case of No Interest and The Accidental Death Of Henry Lindfield
Date: October 10, 2021
Day: Sunday
Time: 2:00PM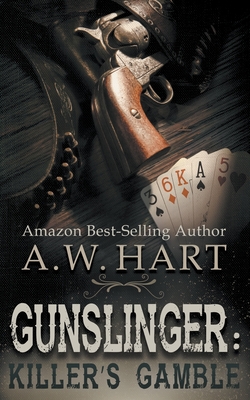 Despite being relentlessly pursued by Pinkerton detectives and an assortment of hired killers, Connor Mack and his twin sister, Abby, are determined to see things through with their mentor, gunslinger River Hicks.
The quest to clear Hicks of a false murder charge requires them to find and confront the rich, powerful foe who seems bent on destroying them. Their journey takes an unexpected turn after they're involved in a bloody confrontation between a bounty hunter and a group of vicious outlaws. Ultimately, this leads them to the town of Land's End where a strange set of circumstances embroil them in a heavyweight boxing match, a high-stakes poker tournament, and much more. Unbeknownst to Connor and Abby, their three malevolent brothers have also been recruited to work against them. All roads lead to Land's End for a showdown that will take place not only in the boxing ring and the gaming tables, but in the dusty street as well.
For every step on their long journey of discovery, Connor Mack, his twin sister, Abby, and gunslinger River Hicks, have faced brutal killers, scheming Pinkerton detectives, and corruption at every corner. Having cheated death more times than they'd like to count, the quest for the twin's mysterious birthright is finally heading for a deadly showdown with the killer who ordered the execution.
Hicks, who is also seeking to clear his name, has promised to reveal the truths he's been harboring since he rescued Connor and Abby from their violent existence on the Mack farm. But first they must face a new collection of killers that are gathering - including a ruthless gunman for hire and a fanatical mercenary with his horde of fervent disciples.
As the long-buried secrets of the past suddenly rise to the surface like a cauldron of evil boiling over, a fearsome battle signals the death knell of a killer's requiem...
A young boy's dog is cruelly slain. A British agent is murdered aboard a train and the daughter of a distinguished military officer commits suicide. These are just three of the five mysteries contained in this volume of new Sherlock Holmes adventures as offered by writers I.A. Watson, R.A. Jones, George Tackes and Jonathan Casey. Each offers the brilliant Holmes and his ever loyal companion, Dr. Watson, unique and exotic puzzles that will test their skills and bring them face to face with murder most foul.
Event date:
Sunday, October 10, 2021 -

2:00pm

to

4:00pm

$17.99

ISBN: 9781647346478
Availability: Usually Ships in 1-5 Days
Published: Wolfpack Publishing - June 23rd, 2021
---