Title: Moby Dick: Illustrated by Gilbert Wilson
Editor: Robert K. Elder
Title: Unfinished and Unbroken: The Life of Artist Gilbert Wilson
Author: Robert K. Elder
Date: March 22, 2020
Day: Sunday
Time: 2 - 4:00 PM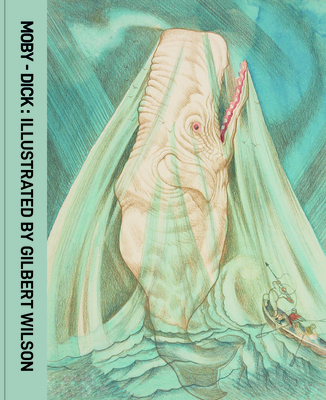 Hat & Beard Press is celebrating Herman Melville's 200th birthday with a full-color edition of Moby-Dick, illustrated by the rediscovered art of Gilbert Wilson. Film director John Huston declared him "a brilliant artist and one of America's foremost painters." Pearl S. Buck sponsored an exhibition of his work in New York, and First Lady Eleanor Roosevelt wrote about his work in her newspaper column. Yet, for most of his life, artist Gilbert Brown Wilson (1907-1991) lived in relative obscurity, despite a critical splash in the 1930s. He sacrificed financial security for artistic freedom. An acolyte of Diego Rivera and an assistant to Rockwell Kent, Wilson became recognized for his gargantuan murals at Indiana State University and Antioch College, and for the controversy sparked by his "social realist" style. But Moby-Dick became Wilson's lifetime obsession, for which he produced more than 200 paintings and drawings, and helped inspire Huston's 1956 film adaptation starring Gregory Peck and Orson Welles. This large, coffee-table book will showcase never-before-published artwork, notes, and meditations on the novel--drawing from unprecedented access to Wilson's estate. The book will also provide a platform for the international art community to reassess and rediscover this remarkable man and his work. The edition pays homage to Melville's original text, while breathing new life into the story via Wilson's vibrant, timeless artwork. Critics have called Moby-Dick "the most ambitious book ever conceived by an American writer"--and Wilson's version will be the most ambitious illustrated edition of that book. Edited by Robert K. Elder
About Robert K. Elder
Robert K. Elder is the Chief Digital Officer at the Bulletin of the Atomic Scientists, an award-winning author of 12 books and founder of Odd Hours Media. He also serves as a mentor at TechStars, 1871 Chicago and Northwestern University's The Garage.
Elder specializes in launching new products, expanding brands and developing corporate innovation strategies. Elder is also the founder of Odd Hours Media LLC, which consults and creates branding campaigns and TV production. In 2018, he also became a founding partner of Token.Agency, a consulting firm focused on emerging technology and blockchain projects.
Elder is also the author or editor of several books, including 2018's The Mixtape of My Life, a journal that guides users to write their autobiography through their music collection.
His 2016 book, Hidden Hemingway: Inside the Ernest Hemingway Archives of Oak Park, won a Gold Medal at the Independent Publisher Book Awards.
Event date:
Sunday, March 22, 2020 -

2:00pm

to

4:00pm

$60.00
ISBN: 9781732734517
Availability: Usually Ships in 1-5 Days
Published: Hat & Beard Press - October 30th, 2019
---