Author Discussion & Signing
About the Author
---
MAX ALLAN COLLINS was the Mystery Writers of America (MWA)'s 2017 Grand Master. He is the bestselling author of the graphic novel Road to Perdition, the basis for the hit film starring Tom Hanks. He has won two Shamus Awards, for True Detective and Stolen Away, both from his series of Nathan Heller novels. A prolific writer, Collins' other works include mystery novels, screenplays, comic books, film novelizations, and historical fiction.
About the Author
---
BARBARA ALLAN is the joint pseudonym of acclaimed writer Barbara Collins and New York Times bestselling novelist Max Allan Collins, a Mystery Writers of America Grand Master. This husband and wife writing team are best known for the acclaimed Trash 'n' Treasures mystery series, which was awarded the RT Books Award for Most Humorous Mystery. They live in Iowa in a house filled with trash and treasures. Learn more about them at BarbaraAllan.com and MaxAllanCollins.com.
May 17, 2020*
Sunday at 2:00 PM
With
Max Allan Collins & Barbara Collins
++++++++++++++++++++++++++++++++++++++++++++++++++++++
* Due to COVID-19 Restrictions this Event has been Canceled! However, through the thoughtfulness of Max and Barbara we will have signed copies of their books available at C&S by Mid to Late May. So, reserve your copy now before we are out.
Thank you…
Augie
+++++++++++++++++++++++++++++++++++++++++++++++++++++++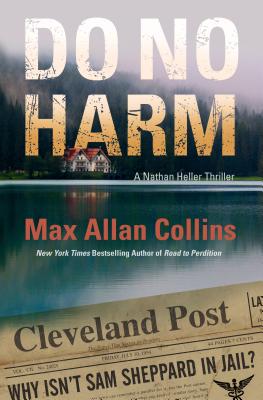 Description
---
Do No Harm is the latest mystery in the Nathan Heller series by New York Times bestselling author Max Allan Collins.
It's 1954 and Heller takes on the Sam Sheppard case—a young doctor is startled from sleep and discovers his wife brutally murdered. He claims that a mysterious intruder killed his wife. But all the evidence points to a disturbed husband who has grown tired of married life and yearned to be free at all costs. Sheppard is swiftly convicted and sent to rot in prison.
Just how firm was the evidence…and was it tampered with to fit a convenient narrative to settle scores and push political agendas? Nathan's old friend Elliot Ness calls in a favor and as Nathan digs into the case he becomes convinced of Sheppard's innocence. But Nate can't prove it and has to let the case drop.
The road to justice is sometimes a long one. Heller's given another chance years later and this time he's determined to free the man…even if it brings his own death a bit closer.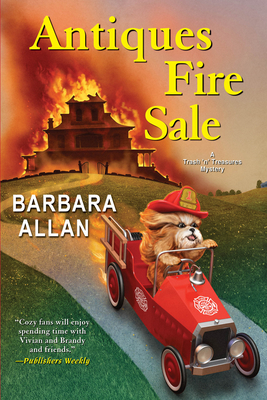 Description
---
The award-winning, laugh-out-loud adventures of antiques dealers Brandy Borne and her drama-queen mom Vivian have made Trash 'n' Treasures "one of the funniest cozy series going" (Ellery Queen Mystery Magazine). In the latest installment, after flames consume a historic mansion full of priceless treasures, along with its occupant, the question arises: who charred the corpse? Brandy and Vivian are on the case in their fourteenth Trash 'n' Treasures Mystery!

That local theater diva of a certain age, Vivian Borne--a.k.a. Brandy's mother--is sheriff of Serenity County now, but still hot on the trail of precious antiques. On a tour of the historic Wentworth Mansion, the two dedicated dealers are aglow at the treasure trove of priceless objects...never dreaming everything will turn to ashes, hours later.

A charred corpse in the ruins is identified as the mansion's caretaker, a one-time flame of Vivian's. But Tony Cassato--Brandy's beau and Serenity's Chief of Police--throws cold water on Sheriff Vivian's suspicions of murder. Then Brandy spots a certain familiar item for sale on the internet, and Mother suspects the fire was just a smoke screen.

When their doggie detective, Sushi the Shih Tzu, sniffs out a second body in the woods, Mother and Brandy turn up the heat on a homicidal torcher. Because any killer who takes on the Borne girls is playing with fire.
Event date:
Sunday, May 17, 2020 -

2:00pm

to

4:00pm

$27.99
ISBN: 9780765378293
Availability: Usually Ships in 1-5 Days
Published: Forge Books - March 10th, 2020
---

$26.00
ISBN: 9781496711434
Availability: Usually Ships in 1-5 Days
Published: Kensington - April 28th, 2020
---