Title: Haunts of the White City: Ghost Stories from the World's Fair, the Great Fire and Victorian Chicago
Author: Ursula Bielski
Date: November 17, 2019
Day: Sunday
Time: 2:00 PM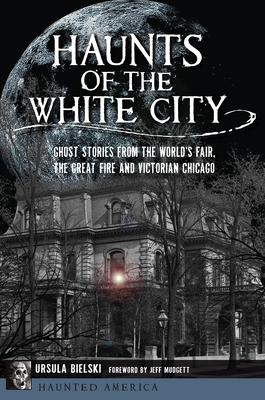 Description
---
At the close of the nineteenth century, Chicago offered the world a glimpse of humanity's most breathtaking possibilities and its most jaw-dropping horrors. Even as the White City emerged from the ashes of the Great Fire, serial killers like H.H. Holmes stalked the sparkling new boulevards and tragic accidents plagued the factories, slums and railroads that powered the churn of industrial innovation. Demons, mesmerists and birds of ill omen preyed on the unwary from the shadows. Ship captains spoke to the dead, while undertakers discovered reanimated corpses no longer requiring services. From posh mansions built on massacre grounds to the drowned quarries of a forest preserve, Ursula Bielski follows the dark undercurrents beneath the electric lights of the World's Fair.
BIOGRAPHY:
Historian, author, and parapsychology enthusiast, Ursula Bielski has been writing and lecturing about Chicago's supernatural folklore and the paranormal for more than 16 years. A recognized authority on the Chicago region's ghost lore and cemetery history, she is the author of four popular and critically acclaimed books on the same subjects, all published by Lake Claremont Press.

Ursula's interests in ghost hunting began at a young age. She grew up in a haunted house on Chicago's north side and received an early education in Chicago history from her father, a Chicago police officer. Since that time she has been involved in numerous investigations of haunted sites in and around Chicago, including such notorious locales as Wrigley Field; the Red Lion Pub, Bachelors Grove Cemetery, and the Oshkosh, WI, Opera House.
Event date:
Sunday, November 17, 2019 -

2:00pm

to

4:00pm

$21.99
ISBN: 9781467139656
Availability: Coming Soon - Available for Pre-Order Now
Published: History Press - September 23rd, 2019
---

$19.99
ISBN: 9781467136631
Availability: Usually Ships in 1-5 Days
Published: History Press - October 10th, 2016
---