Author: Stephen M. Silverman
About the Author
---
Stephen M. Silverman is a twenty-year veteran of Time Inc. and was the founding editor of People.com. He is the author of The Amusement Park as well as The Catskills: Its History and How It Changed America among many other titles. His work has appeared in Esquire, Harper's Bazaar, The New York Times, The Times (London), Vogue, and The Washington Post. He lives in New York City.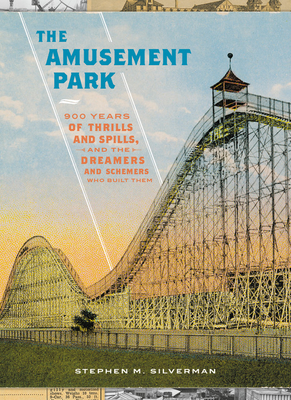 Title: The Amusement Park: 900 Years of Thrills and Spills, and the Dreamers and Schemers Who Built Them.
Description
---
The electrifying, never-before-told history of amusement parks, from the middle ages to present day, populated by the colorful (and sometimes criminal) characters who built them, and the regular folks who sought their magical, albeit temporary, charms.
Step right up! The Amusement Park is a rich, anecdotal history that begins nine centuries ago with the "pleasure gardens" of Europe and England and ends with the rise and fall and rise again of some of the most elaborate parks in the world. It's a history told largely through the stories of the colorful, sometimes hedonistic characters who built them and features, among many, showmen like Joseph and Nicholas Schenck and Marcus Loew, railroad barons such as Andrew Mellon and Henry E. Huntington, and the men who ultimately destroyed the parks including Robert Moses and Fred Trump. The many gifted artisans and craftspeople who brought these parks to life are also featured, along with an amazing cast of supporting players from Al Capone to Annie Oakley. And, of course, there are the rides, whose marvels of engineering and heart-stopping thrills are celebrated at full throttle. The parks and fairs featured include the 1893 Chicago World's Fair, Coney Island, Steeplechase Park, Dreamland, Euclid Beach Park, Cedar Point, Palisades Park, Ferrari World, Dollywood, Sea World, Six Flags Great Adventure, Universal Studios, Disney World and Disneyland, and many more.
Date: June 29, 2019
Day: Saturday
Time: 2:00 PM
Event date:
Saturday, June 29, 2019 -

2:00pm

to

4:00pm

$35.00
ISBN: 9780316416481
Availability: Usually Ships in 1-5 Days
Published: Black Dog & Leventhal - May 7th, 2019
---