Author: Richard C. Lindberg
Title: Tales of Forgotten Chicago
Date: July 25, 2020
Day: Saturday
Time: 2:00 PM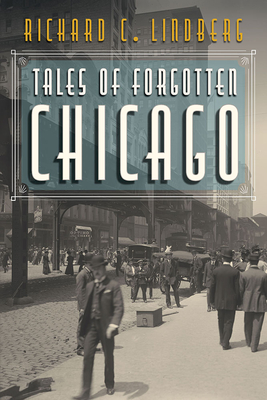 Description
---
Hidden gems from Chicago's past

Tales of Forgotten Chicago contains twenty-one fascinating, little-known stories about a great city and its people. Richard C. Lindberg has dug deeply to reveal lost historical events and hidden gems from Chicago's past.

Spanning the Civil War through the 1960s, the volume showcases forgotten crimes, punishments, and consequences: poisoned soup that nearly killed three hundred leading citizens, politicians, and business and religious leaders; a woman in showbiz and her street-thug husband whose checkered lives inspired a 1955 James Cagney movie; and the first police woman in Chicago, hired as a result of the senseless killing of a young factory girl in a racially tinged case of the 1880s.

Also included are tales of industry and invention, such as America's first automobile race, the haunting of a wealthy Gilded Age manufacturer's mansion, and the identity of the telephone's rightful inventor. Chapters on the history of early city landmarks spotlight the fight to save Lakefront Park and how "Lucky" Charlie Weeghman's north side baseball park became Wrigley Field. Other chapters explore civic, cultural, and political happenings: the great Railroad Fairs of 1948 and 1949; Richard J. Daley's revival of the St. Patrick's Day parade; political disrupter Lar "America First" Daly; and the founding of the Special Olympics in Chicago by Anne Burke and others. Finally, some are just wonderful tales, such as a touching story about the city's first Christmas tree.
About the Author
---
Richard C. Lindberg is an award-winning author, journalist, and lecturer who has written and published nineteen earlier books about Chicago history, politics, criminal justice, sports, and ethnicity. The 2011 memoir of his Northwest Side boyhood, Whiskey Breakfast: My Swedish Family, My American Life, was named nonfiction book of the year by the Chicago Writer's Association.
Event date:
Saturday, July 25, 2020 -

2:00pm

to

4:00pm

$24.95
ISBN: 9780809337811
Availability: Coming Soon - Available for Pre-Order Now
Published: Southern Illinois University Press - July 24th, 2020
---