Author: Steven Decker
Title: Cambridge Street: An Immigrant Family's Story of Bravery, Sacrifice and Struggle in Chicago's Roaring Twenties.
Date: July 9, 2023
Day: Sunday
Time: 2:00 to 4:00 PM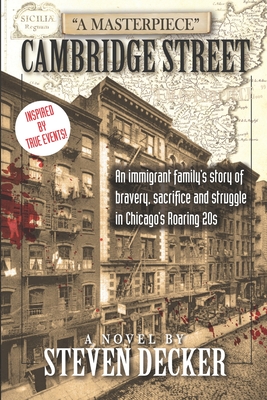 Description
---
Crime, high taxes and poverty force Gianna, Paolo and his two brothers to leave Sicily. They arrive in freezing, squalid Chicago at the dawning of the Roaring Twenties and quickly learn that they are not wanted in their new homeland. The family moves into a fourth floor apartment in a tenement building on Cambridge Street in Little Sicily, also known as Little Hell. It's an accurate name for the slum neighborhood. Slaughterhouse wages, even after working twelve hours a day, barely cover the rent and feed the growing family. Survival is a day-to-day struggle but they are determined that their children will be Americans. Neighborhood crime boss Malo Tancredi, with the help of dirty cops and crooked politicians, runs the people and businesses in Little Sicily with an iron fist. His brutal enforcers, men like Gazzo D'Napoli, Santo and Lupo, keep everyone in line.When an act of terrible and unforgivable violence is committed against his family, Paolo swears revenge. Don Tancredi will not - cannot - tolerate disrespect and sends killers to murder Paolo publicly as an example to the rest of the neighborhood. With the young father's violent death at the hands of gangsters imminent and certain, Paolo and Gianna stand together - and alone - against the monsters that wait outside their door to slaughter him. Their actions will determine who they are as people and decide the futures of their children. REVIEW: "Decker's prolific story telling tugs at the heartstrings with his descriptions of love, honor, and dignity within Italian family lives, as well as shocking the reader with the realities of political and law enforcement corruption, racism, and the vicious, psychopathic doings by Mafia mob bosses and their henchmen killers. For people of Italian heritage, and people of other heritages, Decker's novel is a 'must read' page-turner, and once readers start reading, they won't be able to put it down until reaching the climatic ending." Review submitted by, Author Bud Monaco, and Publisher of Sopro Books. Contact author Steven Decker@ CambridgeStreet@comcast.net.
About the Author
---
Author Steven Decker grew up in a large, thriving Sicilian family on the north side of Chicago. He never forgot the family stories about the struggles of his immigrant grandparents: how they survived terrible poverty, life during Prohibition and their encounters with gangsters. He has woven many of those true events into an exciting fictional tale spanning a half century. "Cambridge Street is for the millions of immigrants from Italy and the world that came to America to give their families better lives," said Decker. "They helped build our country, feed its people and fight its wars. Now, with the passing of years, their bravery and sacrifices are being forgotten. We must not let that happen."
Event date:
Sunday, July 9, 2023 -

2:00pm

to

4:00pm

$18.99

ISBN: 9780692978474
Availability: Usually Ships in 1-5 Days
Published: Cambridge Street - December 17th, 2017
---