Author: Julia Buckley
Title: Death of a Wandering Wolf (A HUNGARIAN TEA HOUSE MYSTERY #2)
Date: July 19, 2020
Day: Sunday
Time: 1:00 PM to 3:00 PM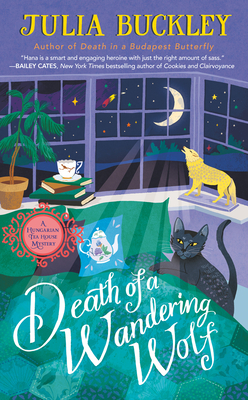 Description
---
Hana Keller is enjoying a day off from serving up tea and delicious pastries at her family's Hungarian Tea House when her downtime turns deadly....

The only thing Hana loves more than a good cuppa is finding a delicate porcelain treasure to add to her collection. She's usually on the hunt for teacups but when she spots a rare wolf figurine at a local yard sale, she knows it's her lucky day. Hana also knows the wolf is valuable and tells the seller that he's charging too little for it. His reaction is peculiar--he says he received the wolf from someone he doesn't trust and he just wants it out of his life.

Hana is inspecting her new prize when she finds a tiny microchip attached to the bottom of the porcelain wolf. When she shows the figure to her police detective boyfriend, Erik, Hana is shocked to learn that the chip is actually a tracking device. They decide to confront the seller about the sneaky sale but when they arrive at his house, they find him dead. Erik and Hana now must hunt a calculating killer who has no intentions of crying wolf when it comes to murder...
About the Author
---
Julia Buckley is a Chicago mystery author. She writes the Writer's Apprentice Mysteries, the Undercover Dish Mysteries, and the Hungarian Tea House Mysteries. Her novel A Dark and Stormy Murder was named "a noteworthy traditional mystery" by Writer's Digest, and her novels The Big Chili and Cheddar Off Dead have both been translated into Japanese.
Julia is a member of the Mystery Writers of America, Sisters in Crime, and the Chicago Writer's Association.
She has taught high school English for thirty-one years; she lives near Chicago with her husband, three cats, and a mischievous Labrador named Digby. She has two grown sons. She is a lifelong reader and a writer, and a bona fide introvert.
Event date:
Sunday, July 19, 2020 -

1:00pm

to

3:00pm

$7.99
ISBN: 9781984804846
Availability: Coming Soon - Available for Pre-Order Now
Published: Berkley - June 30th, 2020
---

$7.99
ISBN: 9780451491930
Availability: Usually Ships in 1-5 Days
Published: Berkley - February 25th, 2020
---

$7.99
ISBN: 9781984804822
Availability: Usually Ships in 1-5 Days
Published: Berkley - July 30th, 2019
---