Title: Murder comes to Grindstone (5th in the Snoopypuss Series)
Author: Georgann Prochaska
Date: October 20, 2019
Day: Sunday
Time: 2:00 PM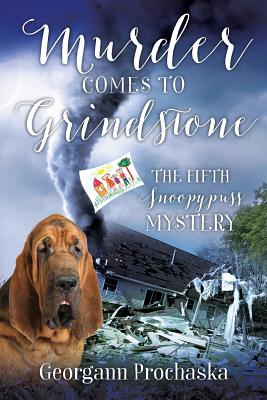 Description
---
A tornado has flattened homes in the rural town of Grindstone, and Alice Tricklebank, her grandson Henry, and Audrey the bloodhound volunteer to search for survivors. When Audrey demands entrance into a wrecked home but is stopped by police, Henry uses the distraction to charge past them through the broken door. Inside, he finds a dead body--but sobs from the basement quickly lead Henry and the police to an even more shocking sight...
In Murder Comes to Grindstone--the fifth Snoopypuss mystery--Alice and Audrey have snooped into a case bigger than murder, and Henry's life is on the line.
About the Author
________________________________________________
Georgann Prochaska lives outside of Chicago. She graduated from Illinois State University and Northern Illinois University. After retiring from teaching high school, Georgann became a caregiver for her mother, an experience she wrote about in her memoir, On Little Cat Feet.
Event date:
Sunday, October 20, 2019 -

2:00pm

to

4:00pm

$16.95
ISBN: 9781977212825
Availability: Usually Ships in 1-5 Days
Published: Outskirts Press - May 18th, 2019
---