Title: This Is Really War:
The Incredible True Story of a Nay Nurse POW in the Occupied Philippines
Author: Emilie Le Beau Lucchesi
Date; June 23, 2019
Day: Sunday
Time: 2:00 PM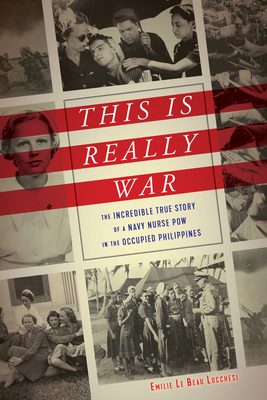 Description
---
In January 1940, Navy nurse Dorothy Still eagerly anticipated her new assignment at a military hospital in the Philippines. Her first year abroad was an adventure. She dated sailors, attended dances and watched the sparkling evening lights from her balcony. But as 1941 progressed, signs of war became imminent. Military wives and children were shipped home to the states, and the sailors increased their daily drills. When Pearl Harbor was attacked, Dorothy and the other nurses braced for a direct assault. When the all-clear sounded, they raced across the yard to the hospital and prepared for the wounded to arrive. In that frantic dash, Dorothy transformed from a navy nurse to a war nurse. Along with the other women on the nursing staff, she provided compassionate, tireless, critical care.
When the Philippines fell to Japan in early January 1942, Dorothy was held captive in a hospital and then transferred to a university along with thousands of civilian prisoners. Cramped conditions, disease and poor nutrition meant the navy nurses and their army counterparts were overwhelmed caring for the camp. They endured disease, starvation, severe overcrowding, and abuse from guards, but also experienced friendship, hope, and some, including Dorothy, even found love.
About the Author
---
Emilie Le Beau Lucchesi is the author of Ugly Prey and has contributed to the Chicago Tribune, Los Angeles Times, Atlanta Journal-Constitution, Baltimore Sun, Detroit Free Press, Miami Herald, Seattle Times and Crain's Chicago Business. She has taught courses in media history, media criticism and journalism and is a frequent guest lecturer in graduate and undergraduate media courses. She lives in Oak Park, Illinois.
Event date:
Sunday, June 23, 2019 -

2:00pm

to

4:00pm

$28.99
ISBN: 9781641600767
Availability: Usually Ships in 1-5 Days
Published: Chicago Review Press - May 7th, 2019
---

$26.99
ISBN: 9781613736968
Availability: Usually Ships in 1-5 Days
Published: Chicago Review Press - May 2017
---