Title: Bath Massacre, New Edition: America's First School Bombing (May 18, 1927)
Author: Arnie Bernstein
Date: April 2, 2022
Time: 2:00 PM
Date: Saturday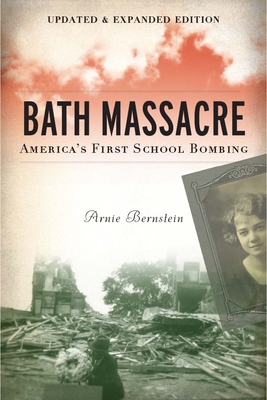 Description
---
The new edition of this Michigan Notable Book includes a new introduction and stories from interviews with two additional survivors, Myrna (Gates) Coulter and Ralph Witchell, which took place after the first edition was published in 2009.

On May 18, 1927, the small town of Bath, Michigan, was forever changed when Andrew Kehoe set off a cache of explosives concealed in the basement of the local school. Thirty-eight children and six adults were dead, among them Kehoe, who had literally blown himself to bits by setting off a dynamite charge in his car. The next day, on Kehoe's farm, what was left of his wife—burned beyond recognition after Kehoe set his property and buildings ablaze—was found tied to a handcart, her skull crushed. With seemingly endless stories of school violence and suicide bombers filling today's headlines, Bath Massacre serves as a reminder that terrorism and large-scale murder are nothing new.
About the Author
---
Arnie Bernstein is a Chicago based nonfiction author and writing teacher. His book Swastika Nation: Fritz Kuhn and the Rise and Fall of the German-American Bund is the outlandish true story of 1930s American Nazis and the disparate coterie of politicians, journalists, Hollywood stars, everyday citizens, and even members of the Jewish mafia who brought down the Bundists and their leader Fritz Kuhn to an inglorious end. Arnie's work was praised by The New York Times, Publishers Weekly, The Chicago Tribune, and many others. Additionally, Swastika Nation was translated for Polish audiences and has been optioned by Hollywood.
Arnie is also author of Bath Massacre: America's First School Bombing, the heart wrenching true story of the first mass school killing in American history. On May 18, 1927, in the small town of Bath, Michigan, a madman blew up the local school with caches of dynamite he had secreted in the building's basement over the course of many months. Thirty-eight children and six adults died, including the killer who blew himself up in his truck. The next day his wife was found burned beyond recognition after the killer set his home ablaze in a raging inferno. Bath Massacre was honored by a Notable Book selection by the State Library of Michigan.
Arnie is a popular speaker on the phenomenon of American Nazism and the horror of mass murder in schools. He has appeared on MSNBC, National Geographic Channel, American Heroes Channel, public television, and NPR, as well as numerous podcasts, newspapers, magazines, and new media outlets. He has also been interviewed by overseas media including the BBC, and outlets in Ireland, Australia, Poland, and Russia.
Arnie is a virtuoso when it comes to the art and craft of writing. He is an expert in transforming creative writing techniques into effective business communications. Arnie teaches college writing, and runs workshops for adults, teenagers, and children. He has presented at conferences for business in both Chicago and London, and at many colleges and universities nationwide.
Arnie is the recipient of a Puffin Foundation grant, winner of the Warner Brothers Comedy Writing Workshop, and has been honored for his work by both the Illinois State Library and the State Library of Michigan. He hopes someday to be honored by the State Library of Hawaii.
Event date:
Saturday, April 2, 2022 -

2:00pm

to

4:00pm

$22.95

ISBN: 9780472039036
Availability: Usually Ships in 1-5 Days
Published: UNIVERSITY OF MICHIGAN REGIONAL - January 31st, 2022
---