Title: Billboard
Author Natalie Y. Moore
Date March 20, 2022
Day: Sunday
Time: 2:00 PM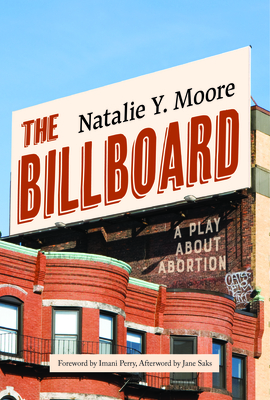 THE BILLBOARD: NATALIE MOORE
Description
The Billboard is about a fictional Black women's clinic in Chicago's Englewood neighborhood on the South Side and its fight with a local gadfly running for City Council who puts up a provocative billboard: "Abortion is genocide. The most dangerous place for a Black child is his mother's womb," spurring on the clinic to fight back with their own provocative sign: "Black women take care of their families by taking care of themselves. Abortion is self-care. #Trust Black Women." The book also has a foreword and afterword and Q&A with a founder of reproductive justice. As a play and book, The Billboard is a cultural force that treats abortion as more than pro-life or pro-choice.
About the Author
---
Natalie Moore covers segregation and inequality.
Her enterprise reporting has tackled race, housing, economic development, food injustice and violence. Natalie's work has been broadcast on the BBC, Marketplace and NPR's Morning Edition, All Things Considered and Weekend Edition. Natalie is the author of The South Side: A Portrait of Chicago and American Segregation, winner of the 2016 Chicago Review of Books award for nonfiction and a Buzzfeed best nonfiction book of 2016. She is also co-author of The Almighty Black P Stone Nation: The Rise, Fall and Resurgence of an American Gang and Deconstructing Tyrone: A New Look at Black Masculinity in the Hip-Hop Generation.
Natalie writes a monthly column for the Chicago Sun-Times. Her work has been published in Essence, Ebony, the Chicago Reporter, Bitch, In These Times, the Chicago Tribune, the New York Times, the Washington Post and the Guardian. She is the 2017 recipient of Chicago Library Foundation's 21st Century Award. In 2010, she received the Studs Terkel Community Media Award for reporting on Chicago's diverse neighborhoods. In 2009, she was a fellow at Columbia College's Ellen Stone Belic Institute for the Study of Women and Gender in the Arts and Media, which allowed her to take a reporting trip to Libya. Natalie has won several journalism awards, including a Casey Medal for Meritorious Journalism. Other honors are from the Radio Television Digital News Association (Edward R. Murrow), Public Radio News Directors Incorporated, National Association of Black Journalists, Illinois Associated Press and Chicago Headline Club. The Chicago Reader named her best journalist in 2017. In 2018, she received an honorary doctorate from Adler University. In These Times gave her the 2017 Voice of Progressive Journalism Award. Natalie frequently collaborates with Chicago artist Amanda Williams.

She is a 2021 USA Fellow. The Pulitzer Center named her a 2020 Richard C. Longworth Media Fellow for international reporting. In 2021, University of Chicago Center for Effective Government (CEG), based at the University of Chicago Harris School of Public Policy, welcomed her its first cohort of Senior Practitioner Fellows.

Prior to joining WBEZ staff in 2007, Natalie was a city hall reporter for the Detroit News. She has also been an education reporter for the St. Paul Pioneer Press and a reporter for the Associated Press in Jerusalem.
Natalie has an M.S.J. in Newspaper Management from the Medill School of Journalism at Northwestern University and a B.A. in Journalism from Howard University. She has taught at Columbia College and Medill. Natalie and her husband Rodney live in Hyde Park with their four daughters.
Event date:
Sunday, March 20, 2022 -

2:00pm

to

4:00pm

$16.00

ISBN: 9781642595734
Availability: Usually Ships in 1-5 Days
Published: Haymarket Books - March 8th, 2022
---