Author: Kevin Patrick Kenealy
Title: Neighborhood Watch
Date: September 24, 2022
Day: Saturday
Time: 2:00-4:00 PM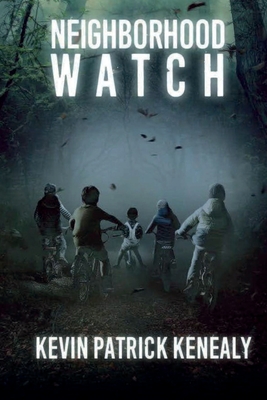 Description
---
"Superb characters headline this chilling, slow-burn crime tale," Kirkus Reviews
When the Caseys move into affluent Ridgeport, Ill. in search of a better life for their newborn Scott, they are surprised to find a book entitled, Ridgeport Welcomes You: Procedures and Guidelines for Happy Living. The book is full of rules and ordinances that citizens must abide by in order to live in their happy neighborhood. Although mom Loretta Casey is hesitant to live by Ridgeport's strict rules, all that changes when she meets her neighbor Sue Ellen Norris.
Sue Ellen serves on the Neighborhood Watch Committee, overseeing the safety of the town, and Loretta becomes engrossed in Sue Ellen's addictive personality. But as Loretta's son Scott and Sue Ellen's son Matt grow, they discover that Ridgeport is not as perfect as their moms make it out to be. As Scott and Matt form their band of friends, their journeys into the neighborhood woods prove to be much more than just a place of refuge.
Author
Kevin Patrick Kenealy is in his seventh-year teaching AP Literature, English, and Journalism to high school students. Before that, he wrote for Chicagoland newspapers, where he had the privilege to interview several famous people including Barack Obama, former Illinois governors Jim Edgar, Rod Blagojevich, and Pat Quinn. He also has published two books of poetry, 20 Something and Faith Journey, and the horror novel, Life and Death.
This is what he has to say about his life so far:
I wrote my first story for the 'masses' in first grade, writing a story called "The Lost Dog" about a dog that ran away and his boy owner found him behind the local grocery store. The kids in the class really dug it, so I kept writing in school. By third grade, I really got into R.L. Stine's Goosebumps series and was turning out a short story a week with titles like "The Day the Halloween Decorations Came to Life." Kids in class couldn't wait until they could read my next one. Then in fifth grade I was first formally recognized for my work - I won a Young Author's Contest for my short story "Tenth Planet," about a group of scientists who discover another planet in the Solar System and have the ability to go there. However, once they get there, they find out they were the ones being researched and are maliciously killed by the alien creatures.
​It wasn't until high school though that I really set the pen to action. I actually owe a lot to my sophomore chemistry teacher. He told us a romantic story one day of how he was building a waterfall garden for his wife for their anniversary. I was inspired by the anecdote, and wrote about it in a journal. Little did I realize that I would write a lot of poems and short stories in that journal and following journals all throughout high school proceeding that tale. The following year my gym teacher had us make a life list of things we wanted to accomplish before we die. One of those things I put on my list was to write and to get a book published one day.
​After writing for a number of newspapers following college, I did just that. At 23, I collected a lot of poems that I wrote beginning in those days in high school and compiled what became my first book, 20 Something. I found that life after college wasn't what I had expected. I had expected to be in a career, not in a freelance position at a local newspaper. Several of my former classmates were in similar predicaments. Several couldn't find work or were in other fields. I found that growing up in your 20s was strange, especially in today's world. As it was my first self-publishing effort, I didn't make many sales, but the book was met with positive feedback. It received four out of five stars on Goodreads, and I still get compliments years later for it. I had a community college student ask to interview me recently for a poetry class saying how she loved the book.
​
Event date:
Saturday, September 24, 2022 -

2:00pm

to

4:00pm

$17.99

ISBN: 9798985209822
Availability: Usually Ships in 1-5 Days
Published: Kevin Patrick Kenealy - April 28th, 2022
---