Chicago River Bridges (Hardcover)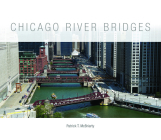 Description
---
Chicago River Bridgespresents the untold history and development of Chicago's iconic bridges, from the first wood footbridge built by a tavern owner in 1832 to the fantastic marvels of steel, concrete, and machinery of today. It is the story of Chicago as seen through its bridges, for it has been the bridges that proved critical in connecting and reconnecting the people, industry, and neighborhoods of a city that is constantly remaking itself. In this book, author Patrick T. McBriarty shows how generations of Chicagoans built (and rebuilt) the thriving city trisected by the Chicago River and linked by its many crossings.
This comprehensive guidebook chronicles more than 175 bridges spanning 55 locations along the Main Channel, South Branch, and North Branch of the Chicago River. With new full-color photography of existing bridges and more than one hundred black and white images of bridges past, the book unearths the rich history of Chicago's downtown bridges from the Michigan Avenue Bridge to the often forgotten bridges that once connected thoroughfares such as Rush, Erie, Taylor, and Polk Streets.
Throughout, McBriarty delivers new research into the bridges' architectural designs, engineering innovations, and their impact on Chicagoans' daily lives, explaining how the dominance of the "Chicago-style" bascule drawbridge influenced the style and mechanics of bridges worldwide. Interspersed throughout are the human dramas that played out on and around the bridges, such as the floods of 1849 and 1992, the cattle crossing collapse of the Rush Street Bridge, or Vincent "The Schemer" Drucci's Michigan Avenue Bridge jump. A confluence of Chicago history, urban design, and engineering lore, Chicago River Bridges illustrates Chicago's significant contribution to drawbridge innovation and the city's emergence as the drawbridge capital of the world.
About the Author
---
Patrick T. McBriarty is a writer and creative producer based in Chicago. He has co-produced, with Stephen Hatch, the documentary film Chicago Drawbridges.
Praise For…
---
"After reading Patrick McBriarty's impressive and thoroughly researched Chicago River Bridges, no one could ever again overlook or take for granted Chicago's bridges. Thanks to this comprehensive book--filled with a treasure trove of stunning photographs, drawings, and maps--we now know that designing, funding, building, operating, maintaining, moving, and rebuilding Chicago's bridges was vital to the development of the Windy City. To 'stacker of wheat' and 'player with railroads,' we must now add 'designer and builder of bridges.'"
--Greg Borzo, author of The Chicago "L" and Chicago Cable Cars
"This meticulously researched compendium of the city's bridges over the Chicago River. . . . will please both scholars and amateur enthusiasts. Recommended."--Choice
"Richly detailed and easy to navigate, Chicago River Bridges is a must for bridge enthusiasts and those with a strong interest in the city's history."--Civil Engineering

"During the same years that architects invented the metal-framed skeleton skyscraper, engineers were working on a related problem: the design of the modern iron drawbridge.  Patrick T. McBriarty's Chicago River Bridges gives these innovators their due recognition.  Bridge enthusiasts and those who love the city will be fascinated by his careful attention to their design and history."--Journal of Illinois History